5 years ago in Spotlight  •  5 min read
Spotlight: Matt – Back-End Developer
At Storm, we have a dedicated team and we want to share the hard work they do. This month, our Spotlight series focuses on Matt, our Back-End Developer.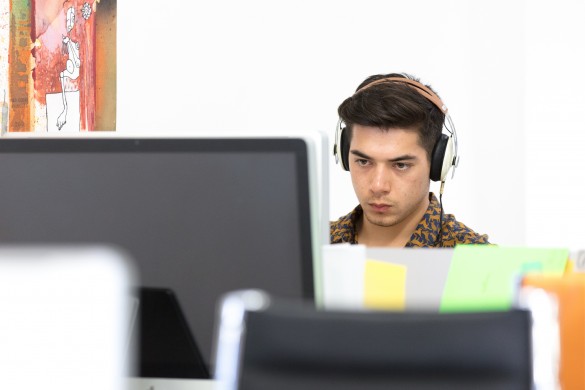 Here at Storm we're incredibly proud of the work we create for our clients, but none of it would be possible without the hard work of our dedicated team. The diverse range of skills, experience and personalities makes the work we produce a truly collective effort.
To give you a better idea of what it's like to be part of the Storm team, our Spotlight series shines a little light on what they do and who they are.
This month, we're getting to know our Matt, our Back-End Developer.
How did you find your way into web development?
After finishing school, I decided that instead of heading to University I wanted to get out and start working, and web-development was something I'd been interested in getting into.
Initially, I spent a couple of months just learning from home. Once I'd got a few basic skills under my belt I found a year-long apprenticeship to start getting some professional experience.
After finishing the apprenticeship, I spent a couple more years at that company, at which point I decided to take the next step in my career and found my way to Storm.
How does your role fit into Storm?
Mostly my work comes from the senior members of the Web Development team. They collaborate with the managers of other departments and let the rest of the dev team know what needs doing.
What do you like about working for Storm?
The main thing is the people I work with. Everyone gets on well and the management style makes it a fun atmosphere to be part of. We can have a laugh and joke, but we're trusted to get on with what needs to be done, and that makes a big difference.
What about the job specifically? What do you like about it?
There's a good mix of tasks, so it's not just the same old thing all day, every day. Some of it involves maintaining work that's been done before and some of it involves new projects. It keeps things fresh and challenging.
What kind of responsibilities does your job entail?
There're loads of different responsibilities that come with the job: debugging issues and writing fixes, adding client requested features with the help of senior team members, building a custom CMS system, collaborating with the front-end team, familiarising myself with APIs that we will be using, and just getting general feedback and advice from senior team members. Pretty extensive overall, but it's never dull.
Would you say you've grown at Storm?
Definitely. I've made a lot of progress since I've come here. In terms of my skills I've learnt a lot from the senior devs, but I've also improved personally in areas like time management and multitasking. I came from a much smaller company before, so moving to a bigger team at Storm has taught me a lot.
If your colleagues could describe you in three words, what would they say?
I think they'd say I'm cheeky, but focused. Probably laid-back as well.
How would you describe working at Storm in three words?
Challenging, but rewarding. It can be fun a lot of the time too.
Can you tell us a little bit about you outside of work?
I spend a lot of my time mountain biking and going to the gym. If I'm not doing something active I'm probably playing video games. Oh, and like most people, I spend what time I can with friends… usually at the pub.
See yourself at Storm?
If you can see yourself as part of our busy and vibrant Web Development team then we want to hear from you! Whether you're a growing talent or a programming grandmaster, we have a number of exciting opportunities on offer.
Check out our careers page to see the positions we're recruiting for right now.